I am loving this colorblocking trend, and if it consists of black and white, sign me up fo sho. Ann Taylor and J.Crew are just two retailers pushing it heavily for Spring. And if you don't have anything in your wardrobe that's on this trend, it's easy to do by just pairing a plain colored shirt with plain colored pants or a skirt, and walah! Super trendy...
How amazing is this idea for your walls?? Also, very smart to create the delineation at the point that they did. If your ceiling heights are not too high and you paint the colors different halfway up the wall, it can make the ceiling height appear even shorter. And bonus, it's a super cheap way to create architectural interest.
This shower used tile to create a colorblock look:
Beautiful color block curtains:
Yeeees, black and white skirt:
I found this
amazing store on Etsy
. She sells to die for leather clutches. Plus they're made in New York. Gotta love buying local: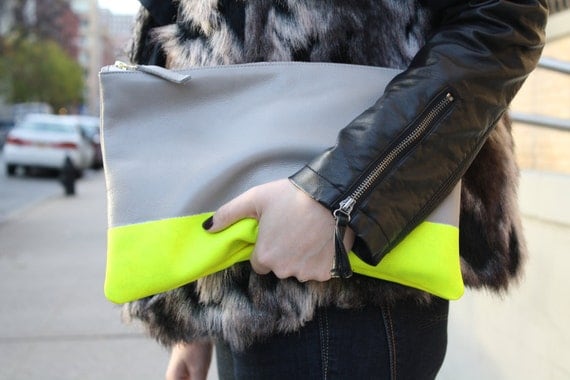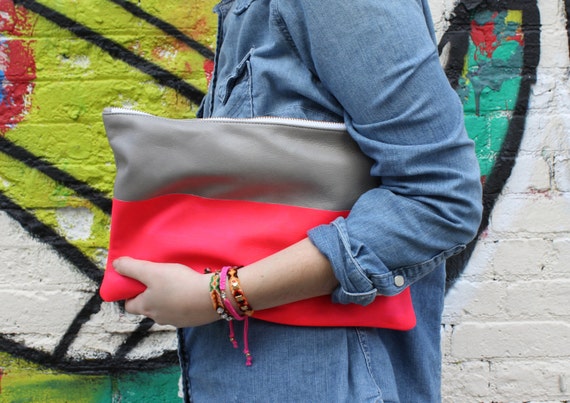 And again, I'm gonna hit ya up with an another amazing
Old Navy find
. And now if you order online, it's 30% off, but only until tomorrow!
I am so obsessed with this trench from Ann Taylor:
And wait for it:
The black part zips off and can become a cropped trench!! I am such an easy sell...
Oh, Annie T, how is it that you get me
every time
. And are those pointy toes??? Gah!
This is what I was referring to earlier about choosing solid colored items to pair together. Such a cute V-day look, too!